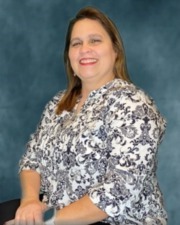 Carleen was born and raised in Honduras. At the age of 17 her family moved to Coral Gables, FL. Upon graduation from Coral Gables High, she joined the Navy as an Air Traffic Controller. During her enlistment, her two duty stations were San Nicolas Island, CA (supports Pacific Missile Test Center) and NAS Corpus Christi, TX (master training base). While stationed at NAS Corpus Christi, she was nominated Sailor of the Year for my Division. Carleen was one of the few who achieved certification in ALL three towers that support the pilot training in the different phases. She also hold the Military Relocation Certification. After her military service, she continued to work as a Controller for the Federal Aviation Administration. Her first FAA facility was Shreveport, LA. Her and her husband called Shreveport home for the next 19 years. In 2016 Carleen and her family decided to move to San Antonio. She worked at San Antonio International Airport before retiring after 30 years of Federal service. 
Carleen also trained hard on traditional Tae Kwon Do and obtained the rank of Black Belt. She competed and won first place in the fighting division at a World Tournament in Dallas, TX. She also enjoys road bike tours and has completed a 57 mile ride in Plano, TX. More of her hobbies include spending time with her 3 sons and husband going hunting, fishing, on road bike rides, soccer and among many other outside activities. Carleen always enjoys meeting new people. She has a friendly and engaging personality that she brings into her real estate business.
---
Carleen nació y se crió en Honduras. A la edad de 17 años, su familia se mudó a Coral Gables, FL. Después de graduarse de Coral Gables High, se unió a la Marina como Controladora de Tráfico Aéreo. Durante su alistamiento, sus dos lugares de destino fueron la isla de San Nicolás, CA (apoya al Pacific Missile Test Center) y NAS Corpus Christi, TX (base de entrenamiento maestro aéreo). Mientras estuvo en NAS Corpus Christi, fue nominada Marinero del Año para mi División. Carleen fue una de las pocas que logró la certificación en TODAS las torres que apoyan la formación del piloto en las diferentes fases. También posee la Certificación de Reubicación Militar. Después de su servicio militar, continuó trabajando como Contralor para la Administración Federal de Aviación. Su primera instalación de la FAA fue Shreveport, LA. Su esposo y ella llamaron hogar a Shreveport durante los siguientes 19 años. En 2016, Carleen y su familia decidieron mudarse a San Antonio. Trabajó en el Aeropuerto Internacional de San Antonio antes de jubilarse después de 30 años de servicio federal.

Carleen también entrenó duro en el Tae Kwon Do tradicional y obtuvo el rango de Cinturón Negro. Compitió y ganó el primer lugar en la división de lucha en un Torneo Mundial en Dallas, TX. También disfruta de los recorridos en bicicleta de carretera y ha completado un recorrido de 57 millas en Plano, TX. Más de sus pasatiempos incluyen pasar tiempo con sus 3 hijos y su esposo yendo de cacería, pesca, paseos en bicicleta de carretera, fútbol y entre muchas otras actividades al aire libre. A Carleen siempre le gusta conocer gente nueva. Tiene una personalidad amigable y atractiva que aporta a su negocio inmobiliario.